Live At Druid City Music Hall
The Struts - The Body Talks Tour 2018
Sun
October 21, 2018
7:00 pm
(Doors:

6:00 pm

)
All Ages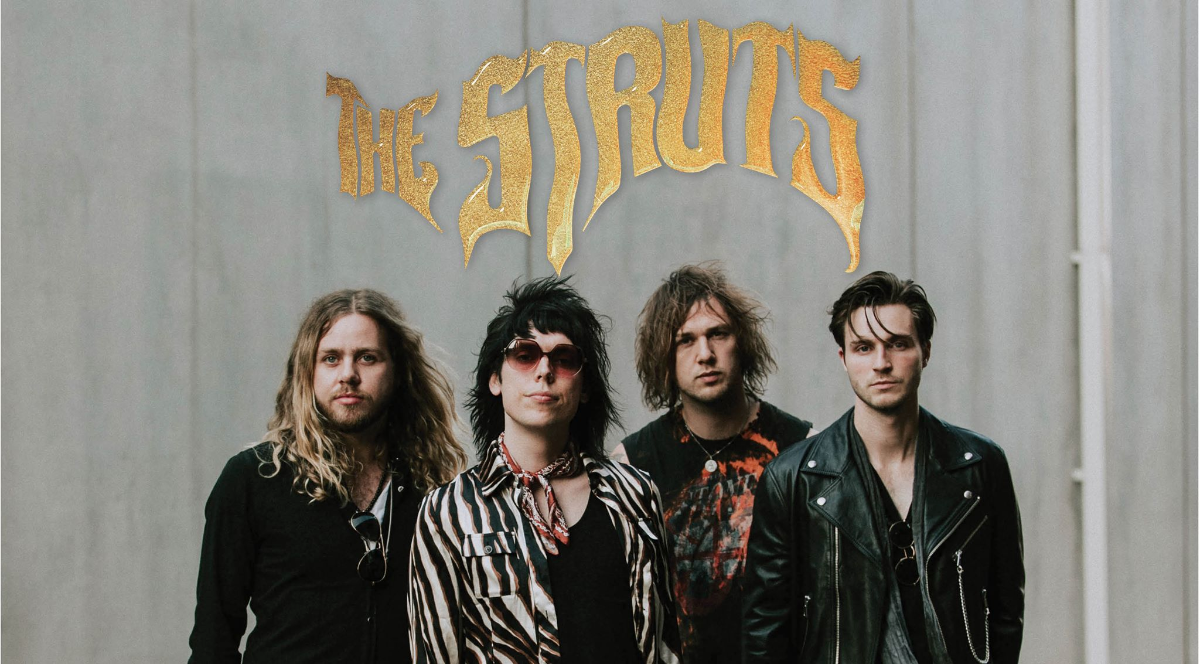 $22.50
Tickets: $22.50 in Advance / $26 Day of Show
Doors: 6:00 PM
Show: 7:00 PM
This is an All Ages Event
All tickets are standing room only, reserved seating is not available.
* Attendees Under 16 Must Be Accompanied By A Ticketed, Adult Guardian
"ticketFast" Method of Delivery is suggested, print at home tickets can be physically printed out or displayed on your phone to be scanned at the door.
No refunds or exchanges
The Struts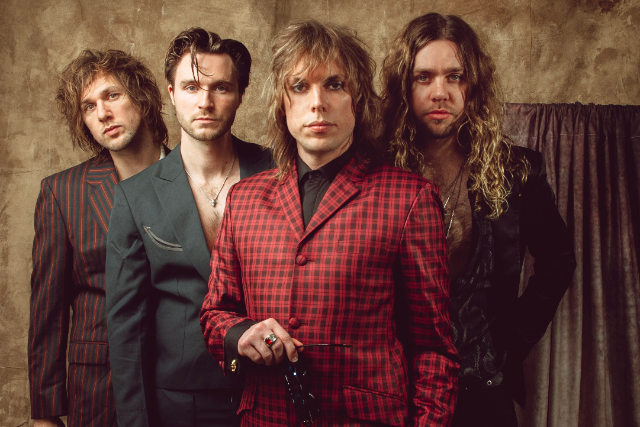 Before even releasing their first album, U.K.-bred four-piece The Struts opened for The Rolling Stones in front of a crowd of 80,000 in Paris, got hand-picked by Mötley Crüe to serve as the supporting act for their four last-ever performances, and toured the U.S. on a string of sold-out shows that demanded the band move up to bigger venues to accommodate their fast-growing fanbase. Now with their full-length debut Everybody Wants, lead vocalist Luke Spiller, guitarist Adam Slack, bassist Jed Elliott, and drummer Gethin Davies reveal the supreme mix of massive riffs and powerfully catchy melodies that's already slain so many adoring audiences around the globe.
"Every time we go into the studio we just want to channel exactly what we're all about onstage—something big, fun, unapologetic, rock & roll," says Spiller. "We love a song that makes everybody sing along, and touring quite extensively over the past few years has given us a lot of inspiration to bring that kind of energy to our album."
The follow-up to Have You Heard—a 2015 EP whose lead single "Could Have Been Me" hit #1 on Spotify's viral chart, earned more than 2.5 million Vevo/YouTube views, and shot to the top 5 on Modern Rock radio charts—Everybody Wants unleashes anthem after arena-ready anthem. Pairing up with producers like Gregg Alexander (former frontman for New Radicals) and Marti Frederiksen (Aerosmith, Mick Jagger) and recording in such far-flung locales as a refurbished London church and a studio in the Spanish region of Andalucía, The Struts prove the iconic power that's prompted Yahoo Music to name them "one of the most exciting and electric performers in rock today" and MTV to proclaim the band "well on their way to bringing rock & roll back to the forefront."
Throughout Everybody Wants, The Struts offer their own undeniable twist on sweetly sleazy glam-rock, delivering huge hooks and making brilliant use of Spiller's otherworldly vocal range. Even the album's breakup songs come on full throttle, with "Mary Go Round" backing its dreamy acoustic balladry with heavy drums, blistering guitar work, and fantastically glam-minded lyrics ("I can't even pour myself a glass of wine/Because every glass is stained with your lipstick shine"). Also evidence of The Struts' romantic sensibilities, the sweeping, heart-on-sleeve intensity of "A Call Away" offers a stirring testament to love against the odds. "It's about when I'd just moved to America and had a girlfriend back home, and everyone was asking how I was going to make it work," explains Slack. "The song's saying that we'll make it work no matter what, no matter how many miles apart we are."
At the core of Everybody Wants are power-chord-driven tracks like the hard-charging album-opener "Roll Up" (a "larger-than-life caricature of the person I am onstage, very glamorous and very cheeky," according to Spiller) and the gritty-yet-exhilarating "Kiss This" (a breakup song whose "message is really about standing up for yourself—sort of our version of a 'Young Hearts Run Free'-type song, but in a rock mentality," Spiller notes). With its hip-shaking rhythms and euphoric harmonies, "Times Are Changin'" recaps the band's recent glories ("I've been to New York City, I met the Rolling Stones"), while "The Ol' Switcharoo" blends bubblegum melodies and horn-backed grooves into the world's most irresistibly fun tribute to girlfriend-swapping.
The Struts also show their skill in merging high-drama storytelling and pop-perfect melody on Everybody Wants, with "Black Swan" spinning a darkly charged tale of warring families and star-crossed lovers. "I'd thought that 'Black Swan' would make a good title, so Luke and I started writing it together one night in his room," recalls Slack. "We finished the melodies, and the next morning he'd come up with this whole tragic love story to put into the lyrics." And on "Where Did She Go," The Struts close out Everybody Wants with an infectiously stomping epic that first came to life when Spiller was just 15. "My parents had just moved to this horrible seaside town, which wasn't a great place to be if you've got long hair or you're just an individual in any way," he says. "One night I was walking home quite drunk and started singing to myself, as you do, and this melody eventually came to me. I remember thinking, 'What kind of melody could you get a whole football stadium full of people to sing along to?', and then kept going from that."
Forming The Struts in Derby, England, in 2012, all four members began making music as teenagers, initially finding inspiration in groups like Oasis and the Libertines and then tracking their idols' influences to discover the glam bands that would one day shape their own sound. "When we first started, we both just wanted to make fun, happy rock songs with big choruses—the kind of thing that bands like Slade and T. Rex used to do," says Slack of his collaboration with Spiller. The trademark tongue-in-cheek swagger of classic glam also played a key part in the naming of the band, Spiller points out. "We were in rehearsals and someone saw me strutting around as we were playing, and made the suggestion that we call ourselves The Struts," he says. "We loved that from day one—it absolutely represents what we're about."
Largely on the strength of their dynamic live performance, the Struts fast built up a major following and started selling out shows all across Europe. Along with landing the Stade de France gig with the Rolling Stones, the band took the stage at the 2014 Isle of Wight Festival, with Spiller decked out in a shimmering-blue cape custom-made for him by Zandra Rhodes (the legendary designer who formerly created costumes for Queen's Freddie Mercury and Brian May). Over the past few years Spiller's role as a style idol has prevailed, with the New York Times recently spotlighting the singer in a fashion-centric feature and Ray Brown (an Australian designer who's also dreamed up outfits for AC/DC, Ozzy Osbourne, and Lady Gaga) coming up with costumes for The Struts' run of dates with Mötley Crüe.
In their lavish stage presence and magnetic appeal, The Struts have more than demonstrated a preternatural command of monumental crowds. But while all that glitz and flash never fail to thrill, the band's impassioned music and high-powered spirit also fulfill a far greater purpose. "The main mission of the band is to bring back that feeling of fun and rock & roll, especially to all those people who are bored by what's going on these days," says Spiller. "We really believe that music, when it's done right, can help you escape the present moment, and then just send you somewhere else entirely."
White Reaper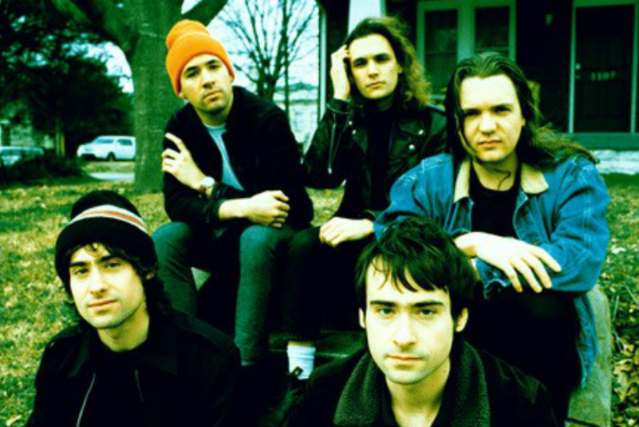 The World's Best American Band.
The bold statement from Louisville's White Reaper is not only the title of their new album, but also the band's credo.
"Because we are the best," says guitarist/vocalist Tony Esposito. "Just like Muhammad Ali was the greatest, you gotta say it out loud for people to believe it."
And with that mentality the band hit the studio with close friend and producer Kevin Ratterman (My Morning Jacket, Young Widows) and made a good ol' fashioned in-your-face rock 'n' roll record.
"We didn't make this record or start this band because we wanted to come across in a single, certain way," says Esposito. "We just make records that we'd want to hear. We started doing this because it's fun as hell, just as much now as it was when we were 14."
Boasting textured melodies, layered guitars and more seasoned lyrics, The World's Best American Band finds the quartet busting out of the basement sound established on their previous full length (2015's White Reaper Does It Again) and setting their sights on the arena.
Garnished with glimpses of the golden age of rock and roll, TWBAB is loaded with guitars that scream and gigantic drums in lockstep rhythm, each song packing its own massive, but none the less unique, punch. Lead single "Judy French" struts like a runway model raised on Heavy Metal Parking Lot, while midway point "The Stack" pairs a classic rock shimmy with a flair for glam.
The Kentucky boys eagerly await hitting the road in 2017. Armed with a record that celebrates rock in all of its glory, they are poised to satisfy crowds whether they are packed shoulder-to-shoulder in the "standing room only" pit or kicking back in the cheap seats.
"Come to the show, have a drink, have fun," laughs Esposito. "But be nice to everybody, cause you're gonna get real close."
Spirit Animal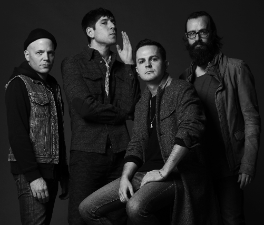 As much as music should outlast the times, it should also speak to them.
On Spirit Animal's 2018 full-length debut, Born Yesterday, the band not only proves 808s and guitars can coexist in harmony, they also craft airtight songs that would delight in any era. Hailing from Brooklyn, NY, singer Steve Cooper, guitarist Cal Stamp, drummer Ronen Evron, and bassist Paul Michel make music that both bottles and transcends the moment.
"Something special happens when you dump a bunch of genres into a blender and just let it rip," says Cal. "We want our songs to move in unexpected directions. We'll take what we love about Arctic Monkeys or Kendrick Lamar or James Blake and pull the pieces together into something cohesive, new and fun. Nobody listens to just one kind of music anymore, so why write that way?"
"Songs come together from every angle," adds Steve. "Sometimes it's four guys jamming in a room. Sometimes it's one person producing on a computer. Sometimes it's two of us, a co-writer and an acoustic guitar. We lean into not knowing what will come of a session and take every risk we can. If we don't do it, who the fuck will?"
Spirit Animal as we know it, though, nearly never happened. Introduced by a mutual friend, Cal initially passed on the opportunity to join the group as a guitarist. But after catching the band's bombastic live show one night at Pianos in downtown Manhattan, he changed his mind. "I wanted to have as much fun as they were having on stage," he admits with a laugh.
A "poptimist before the word existed," the guitarist's sensibilities dovetailed nicely with the other members' eclectic tastes. Although Paul's roots were in the D.C. hardcore scene, Ronen studied at Berklee College of Music, and Steve grew up on a strict diet of rap music, the guys bonded over a shared desire to push boundaries. "We've changed each other drastically," Steve says with pride.
The group's efforts began with the single "The Black Jack White," which quickly topped a million plays on Spotify. Building a buzz, the band landed looks from Consequence of Sound, Entertainment Weekly , and The Washington Post . 2016's World War IV EP yielded the staple "Regular World," which clocked over 2.9 million Spotify streams. They toured relentlessly along the way, developing a diverse and devout audience. Signing to Atlantic Records in 2017, the band wrote and recorded what became Born Yesterday at Steve's apartment, as well as studios in New York, Los Angeles and Nashville.
"We want this album to stick with you, but we also want it to be fun," Cal says. "It's more than just a good time, but it shouldn't feel like more than a just good time."
The first single, "YEAH!" pits sparse pop verses against a wild, distorted chorus. Punctuated by fingersnaps and an oft-repeated chant that lends the song its name, lyrics veer from plaintive irreverence ("All I wanna hear you say is/You put me on your love songs playlist") to disorienting commentary ("Give 'em all a raise/Give 'em Marvin Gaye/Give 'em Michael Bay").
"It's about fame's relationship to the real and the fake," says Steve. "This tornado of pop culture touchstones -- similar to Billy Joel's 'We Didn't Start the Fire' or the bridge to Madonna's 'Vogue' -- makes it all mean something, but you're not sure what. You're supposed to question it, the way the modern world makes you question yourself."
Elsewhere on Born Yesterday , "Karma" opens with a punchy bass riff before launching into a gleeful, stadium-sized ode to underachievement ("What do you want me to say?/I'm the Jordan of making mistakes!").
For the piano-driven "JFK," Spirit Animal teamed up with producer Ricky Reed (Jason Derulo, One Direction) for a more bass-heavy sound. "It's a little more serious and contemplative," Steve says. " ' JFK' explores the gift-and-curse of having power and attention, but being a target as a result. You carry that around. You live with both. It's not all good and it's not always predictable."
Unpredictability is Spirit Animal's bread and butter.
"We went from losing our indie deal to signing with Atlantic and working with our favorite producer," says Steve. "In this game, anything's possible. Our music shows that."